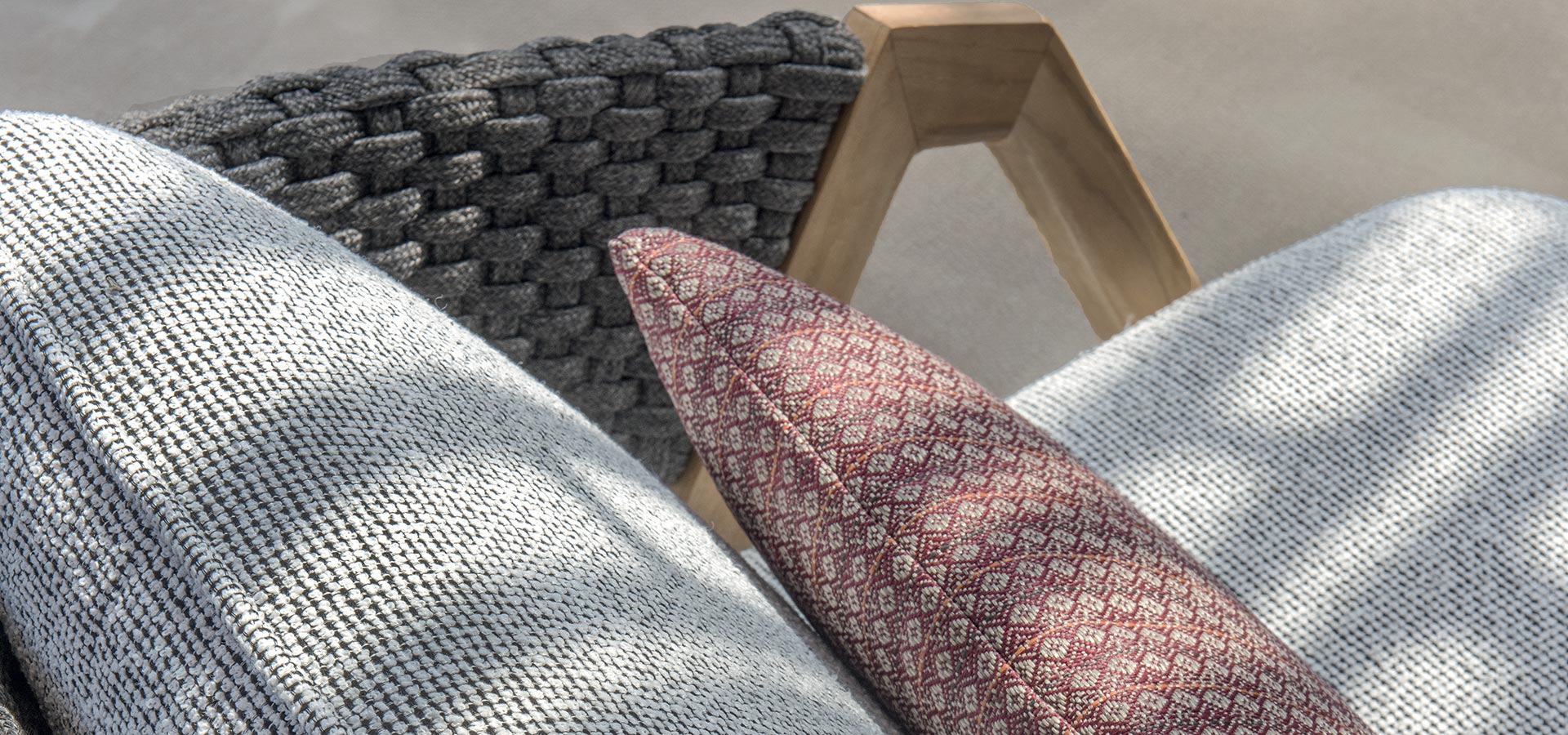 Fabrics
Fabrics
All the fabrics in the Ethimo collection are specifically made for outdoor use. Other than the particular softness to the touch, they offer the maximum resistance to UV
rays and guarantee a long life. A specific treatment protects them from liquids and dirt and makes them easy to clean, with a soft sponge and mild soap, or in a washing machine at low temperatures. Especially all Waterproof fabrics are characterized by special PVC layer, which makes them 100% waterproof.
Acylic Waterproof
AW25 Nature White

AW24 Nature Grey

AW28 Black Stone

AW39 Espresso
Acrylic
A25 Nature White

A1 Ivory

A19 Grey Sun

A12 Dove Grey

A24 Nature Grey

A39 Espresso

A28 Black Stone

A27 Blue Narval

A17 Avio

A65 Yellow Apache

A31 Red Navajo

A29 Acrylic Cherry Red

A76 Red Earth

A10 Wisteria Lilac

A15 Leaf

A43 Mariaflora White

A42 Mariaflora Blue

A44 Mariaflora Taupe

A46 Lichen

A47 Lichen Melange

A48 Lichen Twill

A109 Checks Black and White

A58 Checks Breeze

A59 Checks Oliver Green

A57 Checks Wild Berry

A108 Wide Stripes Blue Navy/ White

A105 Wide Stripes Red White

A103 Wide Stripes Classic Green / White

A106 Thin Stripes Blue Navy White Piping Blue

A101 Thin Stripes Classic Green / White Piping Green

A119 Thin Stripes Red / White Piping Red

A107 Blue Navy Piping White

A102 Classic Green Piping White

A104 Red Piping White

A56 Charron
Polyester
P7 White

P25 Hydro White

P9 Dove Grey

P24 Hydro Grey

P63 Blu Ink

P61 Green Sardinia

P60 Hydro Acqua

P77 Red

P11 Rubelli Outcross Caraibe Rose

P12 Rubelli Outcross Gris Sauge

P10 Rubelli Outcross Olive Blue

P104 Polyester Argilla

P116 Polyester Argento

P119 Polyester Ruggine

P121 Polyester Rosa

P133 Polyester Ottanio

P138 Polyester Notte

P140 Polyester Biliardo

P145 Polyester Lacca

P09 Rubelli Orange Stripe

TR18 Polyester Rubelli Orange stripe

P13 Rubelli Velvety Rust

P29 Rubelli Velvetforty Chartreuse
Velum
100% Acrylic - UV resistant 7/8 - Water resistant - Stain proof
V78 White Stone

V75 Grey Stone

V79 Velum Swell
Ethitex
E57 Ivory

E52 Dove Grey

E37 Cappuccino

E51 Lilac

E53 Blue

E56 Red

E38 Tartan
Polipropylene
PP2 Rubelli Outmap Ardoise

PP3 Rubelli Outmap Laguna

PP1 Rubelli Outmap Chartreuse

PP52 Black & White Chess

PP51 Lava

PP50 Corda

PP35 Geometric Terra

PP36 Geometric Marine

PP53 Red Diamonds

PP32 Pool Ebano

PP33 Plaid Beige

PPVA Polipropilene Lime

PPR Tricot Stripes

PPP Tricot Panna

PPG Tricot Grigio

PPB Tricot Bordeaux
Polyolefin
O001 Polyolefins soft Ivory Melange

O732 Polyolefins Aquamarine

O11140 Polyolefins Elitis Corsaro Acquamarine

O01 Polyolefins Elitis Lontano Black

O46 Polyolefins Elitis Lontano Sand
Prestige
100% Acrylic  – H 140 cm  – UV resistant 7/8 – Stain-proof
In addition to its range of "ready to order" fabrics, Ethimo is pleased to present its new collection of "Prestige" fabrics, available on request. Inspired by the
weaves and texture of fabrics used in interior design, they have all the characteristics needed for outdoor use: acrylic is woven in such a way as to obtain an extraordinarily soft fabric, the grammage is very high (700-920 g/linear metre) and the colours are inspired by natural tones that can be mixed and matched. They represent a further proposal to make the outdoor areas around the home even more exclusive.
Canvas
AC80 Creamy–White Canvas

AC81 Creamy–White Light Gre

AC82 Creamy–White Dove Grey

A83 Dove Grey Blue Green

AC84 London Grey

A85 Tobacco Brown
Raw
AR80 Creamy–White Raw

AR81 Creamy–White Light Grey

AR82 Creamy–White Dove Grey

AR83 Dove Grey Blue Green

AR84 London Grey Raw

AR85 Tobacco Brown Coffee Brown
Rain cover
100% Polyester + PVC layer – Water column 80 cm – Water-resistant – Stain-proof
Rain Cover Ethi–Care fabric
Soft
AS80 Creamy–White Soft

AS81 Creamy–White on Light Grey

AS82 Creamy–White on Dove Grey

AS83 Dove Grey on Blue Green

AS84 London Grey Soft

AS85 Tobacco Brown
Velvet
A34 Velvet Artic Grey

AV9 Velvet Smoke

A30 Velvet Blue

AV23 Velvet Pavone

AV21 Velvet Acqua

AV25 Velvet Arancio
We did not find any results.