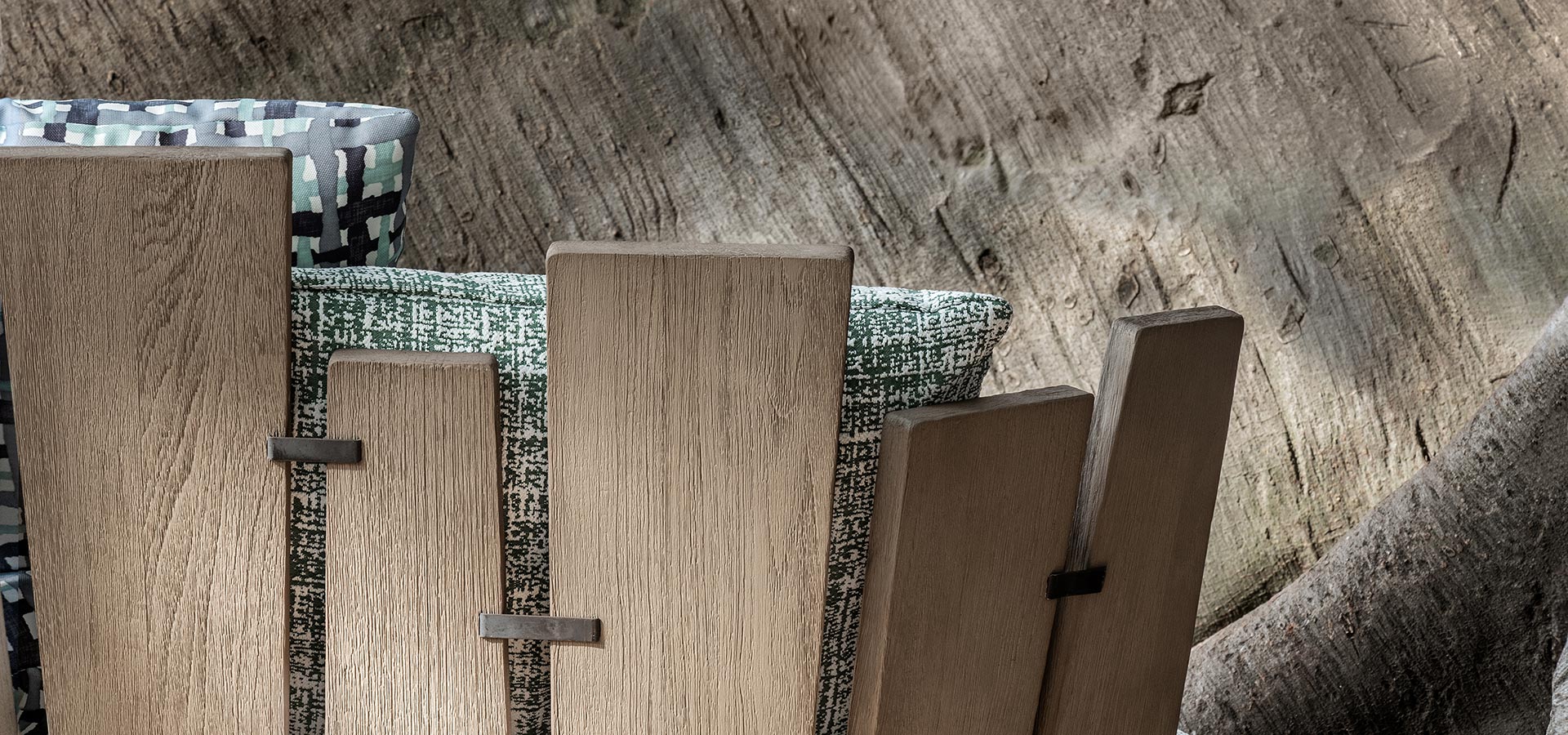 Teak
Teak
The teak used to make the Ethimo collections is of the highest quality and it is only sourced from controlled forest plantations in compliance with the strictest reforestation processes. This close focus on the environment has enabled the company to obtain the prestigious FSC certification (Forest Stewardship Council). This is an international acknowledgement which testifies that the wood used in Ethimo products comes from a forest and a supply chain that are responsibly managed in line with a set of internationally accepted rules.
Natural teak
Teak is the protagonist of the main collections proposed by Ethimo and its use can be justified by its excellent properties in terms of durability, hardiness, and aesthetic appeal. These three factors make it an ideal material for the production of high end outdoor furniture that is constantly exposed to temperature changes, water, humidity, and saltwater. Once cut and matured, teak wood is honey-coloured. However, over time, the oxidation caused by the air, water and light will tend to make it lighter and greyer, giving it its typical "aged" look. In this case, the colour change is not a problem related to the quality of the wood, its duration or resistance, but simply a natural aesthetic variation.
To keep the teak furniture in the best condition, it is recommended to wash it often with water to remove dirt and impurities from the surface. In the case of stains on the surface, it is advisable to clean the dry material with a soft sponge and cleanse with mild soap diluted in water.
In case you want to protect the surface of teak from natural wear, avoiding stains and dirt, it is possible to treat the material with a protective product that will darken it slightly, creating a protective film. Ethimo provides the specific kit for cleaning and protection.
T1
T1 Teak
T1S
T1S Brushed Teak
Pickled teak
To give teak vintage charm, it is"pickled", in other words, it is firstly brushed to give the surface a rougher older appearance, and remove the natural oily coating. It is then tinted. For the "grey" pickled finish, after being brushed, the teak is treated to give it a silvery-grey coating with an antique effect.
The finish of pickled teak is also an effective protection for wood, which will therefore be less prone to staining. Over time, however, even pickled teak will tend to whiten due to exposure to light. In this case it is possible to restore the original effect through the treatment with the appropriate recovery kit.
T5
T5 Pickled teak
We did not find any results.