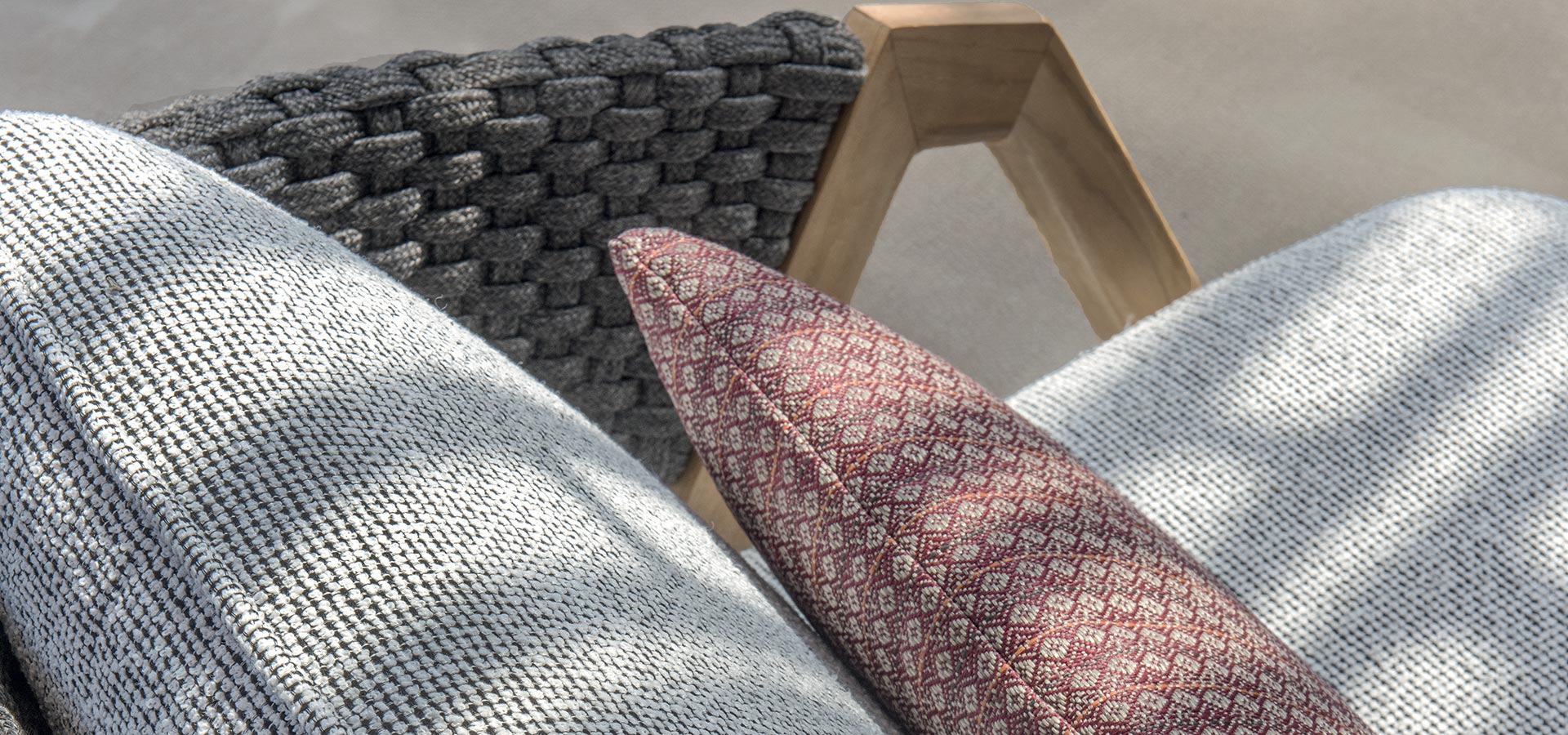 Tessuti
Tessuti
Tutti i tessuti della collezione Ethimo sono specifici per l'uso esterno. Oltre ad una particolare morbidezza al tatto, offrono la massima resistenza ai raggi UV e garantiscono una lunga durata.
Un trattamento specifico li protegge dai liquidi e dallo sporco e li rende facili da pulire, con una spugna morbida e sapone neutro, oppure in lavatrice a basse temperature. In particolare i tessuti Waterproof sono spalmati con una pellicola di PVC che li rende impermeabili al 100%.
Acrylic Waterproof
AW25
AW25 Nature White
AW24
AW24 Nature Grey
AW28
AW28 Black Stone
AW39
AW39 Espresso
Acrylic
A25
A25 Nature White
A1
A1 Ivory
A19
A19 Grey Sun
A12
A12 Dove Grey
A24
A24 Nature Grey
A39
A39 Espresso
A28
A28 Black Stone
A27
A27 Blue Narval
A17
A17 Avio
A65
A65 Yellow Apache
A31
A31 Red Navajo
A29
A29 Acrylic Cherry Red
A76
A76 Red Earth
A10
A10 Wisteria Lilac
A15
A15 Leaf
A43
A43 Mariaflora White
A42
A42 Mariaflora Blue
A44
A44 Mariaflora Taupe
A46
A46 Lichen
A47
A47 Lichen Melange
A48
A48 Lichen Twill
A109
A109 Checks Black and White
A58
A58 Checks Breeze
A59
A59 Checks Oliver Green
A57
A57 Checks Wild Berry
A108
A108 Wide Stripes Blue Navy/ White
A105
A105 Wide Stripes Red White
A103
A103 Wide Stripes Classic Green / White
A106
A106 Thin Stripes Blue Navy White Piping Blue
A101
A101 Thin Stripes Classic Green / White Piping Green
A119 Thin
A119 Thin Stripes Red / White Piping Red
A107
A107 Blue Navy Piping White
A102
A102 Classic Green Piping White
A104
A104 Red Piping White
A56
A56 Charron
Polyester
100% Polyester - UV resistant 6/7 - Water column 10 cm - Water-repellent - Stain-proof
h D L V H
P7
P7 White
P25
P25 Hydro White
P9
P9 Dove Grey
P24
P24 Hydro Grey
P63
P63 Blu Ink
P61
P61 Green Sardinia
P60
P60 Hydro Acqua
P77
P77 Red
P11
P11 Rubelli Outcross Caraibe Rose
P12
P12 Rubelli Outcross Gris Sauge
P10
P10 Rubelli Outcross Olive Blue
P104
P104 Polyester Argilla
P116
P116 Polyester Argento
P119
P119 Polyester Ruggine
P121
P121 Polyester Rosa
P133
P133 Polyester Ottanio
P138
P138 Polyester Notte
P140
P140 Polyester Biliardo
P145
P145 Polyester Lacca
P09
P09 Rubelli Orange Stripe
TR18
TR18 Polyester Rubelli Orange stripe
P13
P13 Rubelli Velvety Rust
P29
P29 Rubelli Velvetforty Chartreuse
Velum
100% Acrylic  – UV resistant 7/8  – Water resistant  – Stain-proof
g D U H
V78
V78 White Stone
V75
V75 Grey Stone
V79
V79 Velum Swell
Ethitex
UV resistant 7/8 – Water-resistant – Stain-proof
d
E57
E57 Ivory
E52
E52 Dove Grey
E37
E37 Cappuccino
E51
E51 Lilac
E53
E53 Blue
E56
E56 Red
E38
E38 Tartan
Polipropylene
100% Polypropylene – UV resistant 7/8
gDUHL
PP2
PP2 Rubelli Outmap Ardoise
PP3
PP3 Rubelli Outmap Laguna
PP1
PP1 Rubelli Outmap Chartreuse
PP52
PP52 Black & White Chess
PP51
PP51 Lava
PP50
PP50 Corda
PP35
PP35 Geometric Terra
PP36
PP36 Geometric Marine
PP53
PP53 Red Diamonds
PP32
PP32 Pool Ebano
PP33
PP33 Plaid Beige
PPVA
PPVA Polipropilene Lime
PPR
PPR Tricot Stripes
PPP
PPP Tricot Panna
PPG
PPG Tricot Grigio
PPB
PPB Tricot Bordeaux
Poliolefine
O001
O001 Polyolefins soft Ivory Melange
O732
O732 Polyolefins Aquamarine
O11140
O11140 Polyolefins Elitis Corsaro Acquamarine
O01
O01 Polyolefins Elitis Lontano Black
O46
O46 Polyolefins Elitis Lontano Sand
Prestige
100% Acrylic  – H 140 cm  – UV resistant 7/8 – Stain-proof
Accanto alla gamma di tessuti "ready to order", Ethimo propone la nuova collezione di tessuti "Prestige", disponibili su ordinazione. Ispirati nell'aspetto alle trame e alla matericità dei tessuti per l'interior design, presentano tutte le caratteristiche di un prodotto specifico per l'outdoor; l'acrilico è tessuto in modo da ottenere una straordinaria morbidezza, la grammatura è molto pesante (700-920 gr/mtl).
Canvas
AC80
AC80 Creamy–White Canvas
AC81
AC81 Creamy–White Light Gre
AC82
AC82 Creamy–White Dove Grey
AC83
A83 Dove Grey Blue Green
AC84
AC84 London Grey
AC85
A85 Tobacco Brown
Raw
AR80
AR80 Creamy–White Raw
AR81
AR81 Creamy–White Light Grey
AR82
AR82 Creamy–White Dove Grey
AR83
AR83 Dove Grey Blue Green
AR84
AR84 London Grey Raw
AR85
AR85 Tobacco Brown Coffee Brown
Copertine di riposo
100% Polyester + PVC layer – Water column 80 cm – Water-resistant – Stain-proof
c C
COVER
Rain Cover Ethi–Care fabric
Soft
AS80
AS80 Creamy–White Soft
AS81
AS81 Creamy–White on Light Grey
AS82
AS82 Creamy–White on Dove Grey
AS83
AS83 Dove Grey on Blue Green
AS84
AS84 London Grey Soft
AS85
AS85 Tobacco Brown
Velvet
100% Acrylic - UV resistant 7/8 - Water repellent - Stain-proof - Resistant to atmospherics agents - Anti mould - Teflon treatment
g D U H L
A34
A34 Velvet Artic Grey
AV9
AV9 Velvet Smoke
A30
A30 Velvet Blue
AV23
AV23 Velvet Pavone
AV21
AV21 Velvet Acqua
AV25
AV25 Velvet Arancio
Non abbiamo trovato alcun risultato.